At Settles Grill, our goal is to provide attentive service and a casual, comfortable dining experience for both Big Spring locals and visiting guests. With Executive Chef Rob Cook at the helm, we specialize in West Texas comfort food.
Please join us anytime – for breakfast, lunch or dinner. We also offer a private dining room if you'd like to entertain an intimate party (up to 16).
---
Hours of Operation
Monday – Friday
Breakfast 7am – 10am
Lunch 11am – 2pm
Dinner 5pm – 10pm
Saturday
Brunch 7am – 2pm
Dinner 5pm – 10pm
About Chef Rob
Chef Rob Cook, originally from San Antonio, realized his love for cooking when he moved to West Texas in 1995. He began his culinary career working for Grady Spears at the Reata in Alpine, then moved to Austin to attend culinary school. After finishing school, he began working with Word of Mouth Catering, under chef/owner Rebecca Wallace and Executive Chef Lou Lambert. For the next 14 years Chef Rob remained in the catering and events business, cooking for diverse clientele that included numerous celebrities and presidents.
Chef Rob began working for Hotel Settles in 2012 as Executive Chef, where he continues to excel in providing delicious West Texas comfort food for locals and visitors.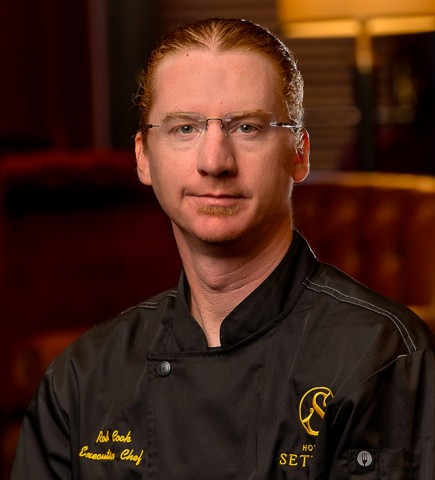 Guest Reviews
"The Hotel is beautiful and well appointed. It feels like you are stepping back in time at height of the Art Deco era. We were there for my High School Reunion, Class of 82. The service was impeccable for our parties in the penthouse and during our stay. The rooms are spacious and the décor is remarkable. The parking is easily accessible. The restaurant staff were very efficient and the food was delicious. "
"The Settles Hotel has transformed a forgotten old gem into a dazzling diamond, preserving the heritage of this iconic hotel on the Bankhead Highway in West Texas. If you want to immerse yourself in the elegance of an earlier era, but with all the comforts of today, and for an affordable price, book a stay here."